Jane Clark (not her real name) showed up on Ancestry as a DNA match to my wife last September. They share a significant amount of DNA, so I contacted Jane to try and determine how they might me related. Jane responded that she was adopted, and although she had made contact with her birth mother, all that she new of her biological father, was that his name was John Smith from Princes Risborough, Buckinghamshire. A friend of hers had recently discovered a half-sister after taking a DNA test, and Jane had decided to try DNA testing for herself, hoping to clarify her paternal ancestry.
Some years ago Jane had researched the Smith family, and had identified two individuals who might be her father, both being descended from a Charles Smith, and being first cousins once removed (see chart below).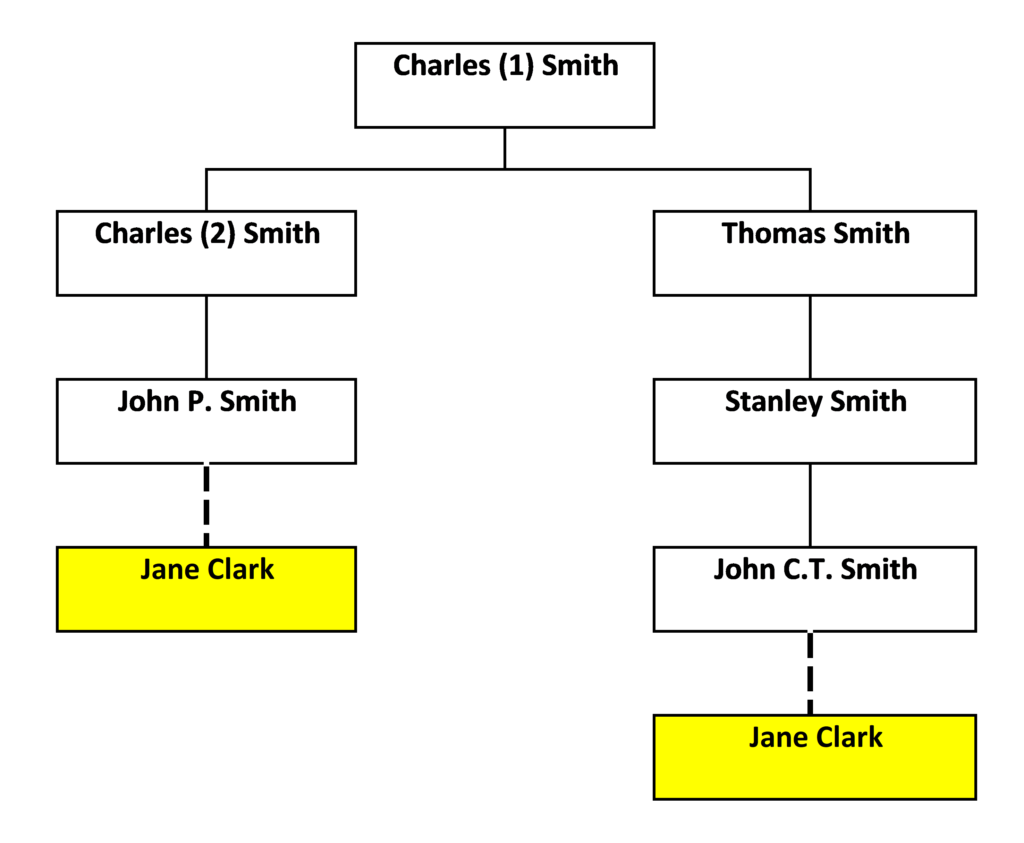 Jane had evaluated both candidates and believed that John C.T. Smith was the person more likely to be her father, based on age, location, etc. I told her that Judith Jones, a niece of John C.T. Smith, had taken a DNA test with 23andMe, so if she tested at 23andMe, as first cousins (see chart below) she and Judith would share between 396 and 1397 cm of DNA.
The 23andMe result came through in record time, but disappointingly Jane and Judith shared only 191 cm of DNA, indicating a more distant relationship, more like second cousins or first cousins twice removed, which eliminated John C.T. Smith as a possible father to Jane. So we turned our attention to the second candidate, John P. Smith. John P. Smith had a brother named Charles, so Jane searched family trees on Ancestry for any members who might have John P. Smith in their online family tree, and found a granddaughter, named Sandra Wells (see chart below).
Jane made contact with Sandra Wells, explained her situation, and asked if Sandra would be willing to take a DNA test to verify the relationship. Sandra responded that she had already taken a DNA test with Ancestry and provided Jane and I with access to view her DNA match list. Sandra shared no DNA with Jane, nor any DNA with other known Smith relatives who had tested at Ancestry DNA. The bottom line was that Sandra was not biologically a Smith, and I explained that to her as gently as possible. Sandra's grandparents had separated around the time of her father's birth, so this is likely where the Smith line was broken.
But Charles Smith (3) had married a second time and had two children with his second wife – another Charles and a daughter named Jill (see chart below).
We traced Jill and her mother to New Zealand in the 1960s, found her mother's death and burial records, but found no later trace of Jill. Jane then emailed the church where Jill's mother was buried to inquire whether Jill might still be in the area, and received a reply from an ex-neighbour, who indicated that Jill had moved to another town about 5 years ago, and provided an address. Jane wrote to Jill at the address provided and received an email response about 10 days later. We had found Jill!
Jill and Jane continued to correspond, sharing more information about their respective families, and eventually Jane asked her if she would be willing to take a DNA test. Jill agreed, so Jane ordered a kit from Ancestry, and eventually got the kit to Jill (you cannot order an Ancestry DNA kit in the UK and have it shipped to another country). Jill is not a fan of computers, so we could see that it was going to be a challenge to get Jill set up with an account on Ancestry, link the test to her account, etc.
Fate stepped in by the time Jill received the DNA kit in February – I was in New Zealand, and would be visiting Jill's area in a few weeks time. We got together with Jill, shared much Smith family information, collected the DNA sample, and completed the necessary steps on the Ancestry website. This included Jill granting me collaborator status on the DNA portion of her Ancestry account. Collaborator status allows me to view Jill's DNA matches from my Ancestry account, and to add / edit the associated notes, but provides me no access to her raw DNA data or other Ancestry features.
I mailed the DNA sample back to Ancestry on March 2nd, and sat back to await the results.
Finally, on April 14th I received an email notification that Jill's test result was available. I logged in to Ancestry, selected "DNA", and looked at Jill's DNA match list. The first name on Jill's match list was Jane, with whom she shares 721 cm of DNA. So the answer is clear, Jill and Jane are first cousins, and, unless Jill's father had additional siblings that we are unaware of, then John P. Smith is Jane's father (see chart below).
Jill and Jane are ecstatic to learn that they are first cousins, and have found that they share several interests. I am just glad that we had a happy outcome, but should I tell Sandra the news?